OHMS
After Chef Josh Fuller graduated from the Scottsdale Culinary Institute in Arizona, the last thing he had to worry about was a job. His mother, Mary, bought OHMS in 1992, and since the Fullers are a family of cooks, coming back to Amarillo was the next best move. Chef Josh's previous culinary experience is impressive, with time spent at the Metro Brasserie and Sushi Brokers in Scottsdale and Oba-Chine, Wolfgang Puck's restaurant in Phoenix.
For October, the featured dish at OHMS is a warm welcome into autumn. Hungry patrons can enjoy a pork tenderloin stuffed with poblano and jalapeno peppers, red onions and Monterey jack cheese, served with roasted garlic mashed potatoes, sautéed green beans and red peppers and a poblano cream sauce with cilantro pesto. To wash it down, the chef recommends a Viu Manent Reserve Malbec or an OHMS house margarita.
619 S. Tyler Street
Amarillo, TX 79101-2345
373.3233
ohms.com
.....................................................................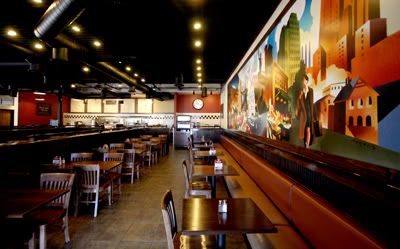 Baker Bros. American Deli
With exceptional quality, healthy food and generous portions, what else could you ask for? Affordable food and rapid service? Wish granted. Next time you stop by Baker Brothers American Deli, try one of their award-winning salads or the Broadway Reuben specialty sandwich. Even the kids can choose between a pizza and a hot dog. You'll leave with your appetite satisfied whatever you choose.
Open Monday - Sunday 11:00 a.m. to 9:00 p.m.
3300 S Soncy 352.6135
1901 S Georgia 352-9000
bakersbrosdeli.com
.....................................................................

Abuelo's Mexican Food Embassy
Since 1989, Abuelo's Mexican Food Embassy has offered a unique flavor of Mexico to Amarillo. The restaurant offers an authentic atmosphere and enjoyable food whether you're out for a romantic date or a lunch meeting. Treat yourself to the delicious, fresh flavors of Abuelo's House Specialties with a Ribeye Steak and Enchiladas. For a lighter meal, try Stuffed Chicken Medallions stuffed with chorizo, Poblano and cheese. Regardless of your choice, always get the queso.
Open Sunday – Thursday 11 a.m. to 10 p.m. and Friday and Saturday 11 a.m. – 11 p.m.
3501 SW 45th 354.8294
abuelos.com
Click here for the complete list of restaurants in Amarillo.
blog comments powered by

Disqus
recent stories
A Place to Start Over
Based in Amarillo, Sharing Hope gives assistance to incarcerated women all over the United States, ...
Cuddle Up
At Northwest's most popular volunteer program, NICU cuddlers get as much out of their work ...
Perfect Pasta
Steve Bautista walked us through the steps required for do-it-yourself pasta.
Beyond Bacon
You'll enjoy the three pork-based recipes in this issue, from roasted pork belly and biscuits ...